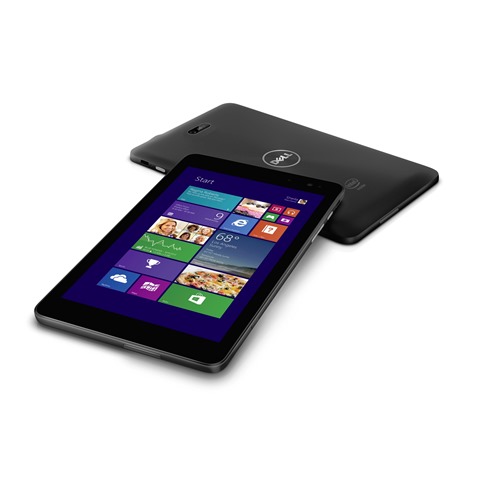 Some time ago I wrote about how disappointed I was with the Acer W3 tablet. I really wanted that small form factor device, but the Acer fell short in pretty much every regard. Late last year Dell launched the Venue 8 Pro – the first of the new generation of 8" Windows tablets out of the gate. I sat on the fence for a while, looking at community comments on the the device, then finally ordered one after speaking to Simon May about his impressions of it.
Overall, I think it's great. In this post I will go through the good and the bad, but overall I'd still be happy recommending it to others, with a perhaps couple of caveats. Competitors are now starting to appear, but the Dell still holds its own, I think. I'll also mention a few tips that I have found along the way that will help you get the most from your own Venue 8.
Size and shape
The Dell is smaller than the Acer W3 in every axis, and lighter. I find it comfortable to hold in one hand, fingers on one edge and thumb on another. I don't have huge hands, by any stretch. The back is covered with a lightly ribbed, rubberised material which makes the device easy to grip and comfortable to hold.
There is no Windows button/key on the front of the device. Dell has placed a hardware button on the top right of the device as you hold it in portrait mode, with the power and volume buttons down the right hand edge. In theory this sounds off, but in practice I find it works well. Placing a button on the front suggests which way you should hold the device – I've commented before on how Surface compares to iPad in the way the button placement indicates preferred orientation. The Dell is a device you naturally want to use in portrait mode for tasks like browsing,email and twitter. Watch a video, though and you will probably switch to landscape. The Windows button on the Venue 8 works just fine in either orientation and you don't accidentally catch it with a finger (as I do with my Surface and Surface Pro when in portrait sometimes).
Ports, Connectivity and Charging
This is another area where the Dell might polarise views. There is no external display connector. That's a little frustrating, as in all other ways the Dell would make a great device to carry and present from if needed. It does support Miracast, and I have tested it with my trusty Netgear Push2TV so you can output to a TV or projector, as long as that device has HDMI input for the Miracast adapter. In practice, however, Miracast and portrait fails horribly. Don't try to mirror your display because it just doesn't work. Extend is OK, but that really limits use to presenting.
Is this really a problem, though? Most places I present only offer a VGA connector, even in this day and age. The number of expensive adapters I carry around for Surface, Surface 2 and my trusted X220T is too numerous to consider. That actually means that I don't try to present form anything but the X220T, which has both displayport and vga output. Until the world catches up with digital inputs a tiny tablet is not going to be a viable 'only device I carry'.
I previously lambasted the Acer for needing a separate charger rather than using USB. Here the Venue 8 Pro wins, sort of… The Dell comes with a small charger and USB to micro-usb cable to charge the device. Fantastic! I thought, and immediately tried plugging into a USB port on my X220T. No dice.
It turns out that this is not uncommon. The Dell charger has shorted to pins of the USB connector. Unless the tablet detects that when a cable is connected, it won't charge. The solution, then, turned out to be a simple three-quid cable from Amazon, originally intended for a Samsung tablet, that allows you to switch between 'data' and 'charge' mode and when connected in line with a standard cable enables charging from a standard USB port. Also useful to know is that the Surface Pro adapter, with it's built-in USB charging, has the pins shorted and will charge the Dell.
Don't think about plugging in USB peripherals and charging at the same time, however. I also picked up a USB OTG hub, which I can happily connect to the Dell, attach a USB device such as keyboard or thumbdrive and also plug in the charging cable. The Dell refuses to switch to charging mode, however, and I have not found any existing cable/hub on sale that might address this problem.
Last but not least is a Micro-SD slot. I bought the 32Gb version of the Venue 8 Pro (the 64Gb one weren't shipping pre-christmas) and am quite happy with it, but have added an SD card to hold stuff like music for long train journeys.
Screen
The display is lovely. No buts. A crisp, clear 800x1280 IPS panel that's easy to read in ways that the W3 never was. It's an interesting talking point in the current 'higher is better' resolution war – I'm really not sure that I'd notice much improvement if it were, say, full HD or even higher.
I must point out, however, that the as-shipped Venue 8 Pro suffers from a fairly annoying auto-brightness behaviour due to a too-aggressive setting in software. Dell have an update that fixes this. I'll come back to that…
I use the Venue 8 for web browsing, reading on the Kindle app and doing light work such as email and reading documents. For that, it's great. The screen is sharp and clear and text is readable without being too small. It does well in daylight, although the glass is quite reflective so it suffers in direct or very bright light
Performance
A quad-core Atom Z3740D powers the Venue 8 pro. It's a zippy little thing – more than enough for everyday use of store apps and Office. It also makes a reasonable fist of games – Project Spark runs ok (although the back gets a bit hot!), although Halo: Spartan Assault is unplayable due to it not understanding the screen resolution. 2Gb of RAM isn't enough for running VMs and heavy photoshop work but it's more than enough for Store apps and Office.
What I hadn't realised until checking up whilst writing this post, is that the CPU is a 64-bit-capable one that also supports virtualisation. Having recently installed Windows 8.1 Enterprise x86 on mine (see later), I may now have to try again with Windows 8.1 Enterprise x64…
Networking
No physical network (you expected that, right?) But both 2.4Ghz and 5Ghz wireless for great flexibility between range and speed. Plug a USB ethernet adapter in and it will happily use that, if you need to.
Touch and Stylus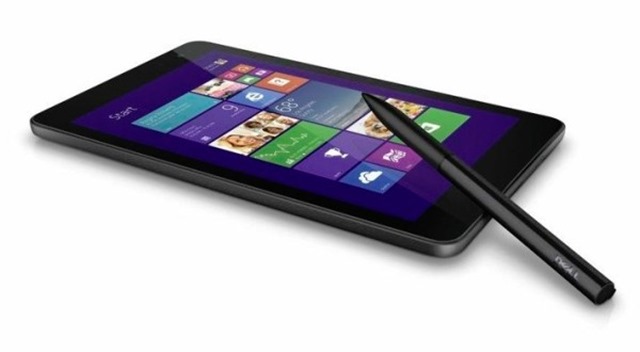 Now comes the rub. One of the biggest reasons I bought the Venue 8 pro was because it offered an active stylus rather than the largely useless capacitive ones most tablets are stuck with. The Dell does not use the largely ubiquitous Wacom digitiser, however. This is new technology from Synaptics.
The stylus, and the debate surrounding it, was why I held off from buying the tablet in the first place. Early users posted scathing reviews of the stylus performance when inking in OneNote (my primary use case). Dell quickly issues firmware updates for the digitiser that improved things and this gave me the confidence to move forward. However, as I write this post my stylus, originally due the first week in December, is now not due until late March. I understand that Dell suspended shipment whilst they addressed design issues.
I find this all very disappointing. Dell stole a march on the competition when they were first out of the gate with the Venue 8 Pro, but it's clear that the new technology they adopted was not necessarily ready for prime-time. I like the Venue 8 Pro enough even without the stylus that I have no intention of ditching it, but it is currently unable to fulfill my primary use case.
Battery Life
It lasts all day. For my actual use, which is intermittent and currently tends to be consuming information via web/email/etc I charge it every three days or so. I'm very happy with that. The datasheet says something like 9 hours and I have to say I think that's pretty accurate.
The Competition
I have been very surprised that in the months since launch, only one vendor has announced anything that comes close to the Venue 8 Pro. Acer now has the W4 – aiming to right the wrongs of the W3; Lenovo announced a business-focused 8 inch tablet with a full HD scree resolution. Neither, however, has a usable stylus. Only the Asus Vivotab Note 8 offers the same size, performance and an active digitizer (a wacom, this time) and it's not expected to ship until March. Providing they can sort their stylus issues I think the Venue 8 Pro is still the one I'd recommend to users like me.
The Use Case
Simon May posted an interesting article the other day where he compared choosing the size of device to choosing the size of notepad. I want to be able to use the Dell in meetings to take notes. In all-day workshops where I'm taking lots of notes I will use my Surface Pro and it's great. For sales meetings, however, I want something smaller and lighter and the Dell fits the bill. I'd love to reach the point where my everyday back is small and light because I only have the 8 inch tablet in it, along with a small charger. If I'm presenting then I'll take my X220T and for workshops I'll take the Surface Pro. The Dell is perfect for conference trips, too. I'm hoping that once I get my stylus the Dell will prove a reliable workhorse that may finally replace my trusty moleskin notebooks.
Enterprise Use
The Venue 8 Pro ships with Windows 8.1 (or 9.1 Pro if you go for the fully tricked out 64Gb with SIM slot version). With Workplace Join, new in Windows 8.1 and Server 2012 R2, I could get some of the enterprise access I want, but to get things like Direct Access I need to reinstall with Windows 8.1 Enterprise. Rather than blog on the process for that, I will simply point you at a great set of instructions to do this 'the right way'. As you can guess, I now have 8.1 Enterprise on my Dell, with full secure access to all the systems I need.
Summary: Great Device, Rushed to Market
Everything about the design of the Venue 8 Pro reflects well on Dell. Lots of things about the implementation, however, do not. Since launch, Dell has released a number of updates to fix problems with the auto-brightness of the screen and the sensitivity of the touch screen and stylus. Whilst most of the specs are in line with the other 8" tablets – memory, storage, CPU – the choice of Synaptics' technology for the screen and stylus is one where I think more testing was needed. Almost certainly the choice was made because of cost – I'll bet Synaptics did Dell a great deal to be first adopter compared to the cost of the Wacom digitiser. However, the customer does seem to be paying the price for lack of testing, as shown by the suspension of stylus shipments.
If you don't want or need a stylus, I can recommend the Dell Venue 8 Pro without hesitation. If, like me, you are a OneNote user looking for that perfect size of device to take notes then you need to sit on the fence until March. At that point, hopefully Dell will have sorted it's problems with the stylus and a careful comparison with the Asus device can be made.
---