You will recall from my earlier post how much I like my Dell Venue 8 Pro and how disappointed I was that the stylus was on back-order until March.
Imagine my surprise, then, when a package arrived at the beginning of this week with a shiny new stylus in it!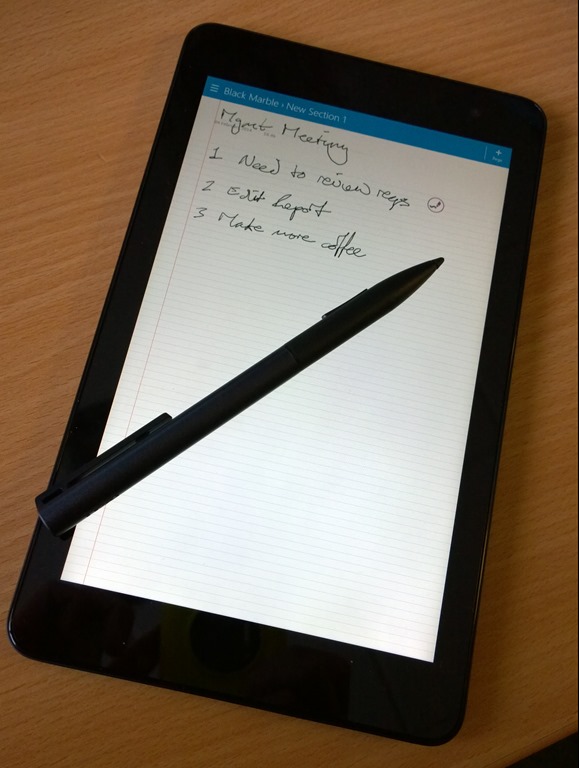 As you can see from the picture, it works just great with OneNote (and it's desktop big brother).
The only niggle I feel obliged to point out right at the start is that the stylus requires a battery, which is an extremely obscure AAAA type. I can pick them up on Amazon, certainly, but I've never seen them anywhere else! I shall be ordering a pack ASAP as I have no idea yet how long I can expect the battery to last.
The stylus itself is comfortable to hold, perhaps actually helped by the battery as it is held at the nib-end. There is a button on the stylus that allows for left- and right-button clicks. Pressure sensitivity works well, although without the variation of the Wacom stylus that both my Surface Pro and X220T have. Palm rejection also works well enough for me to comfortable rest my hand on the tablet whilst writing.
I have been testing the tablet for taking handwritten notes in OneNote and then converting to text in OneNote desktop and it works better than I'd hoped. Ink-to-text is almost totally accurate, providing I remember to write in cursive rather than my usual block-capital scrawl.I really do believe that this was the purpose 8 inch Windows tablets fit best and nothing else really comes close to giving me a seamless workflow from note to document, coupled with the light weight, small size and flexibility to run desktop apps if I need to.
In addition to OneNote I have played with a marvellous app called Drawboard which allows you to create and annotate PDF files. It's a really great Windows Store app that does what it sets out to do really well. Between those two I can both create content and review other people's content very easily.
I said in my earlier post that there is nothing currently available that offers the functionality of the Venue 8 Pro and using it with a stylus really underlines that for me. I would look at the Asus VivoTab Note 8 as a possible alternative, but for serious business users I would not consider any competition that did not offer a 'proper' active stylus rather than the soft and saggy capacitive ones.
My only conundrum now is whether or not to get the folio case…
---