Lets get this straight right of the bat: Grenander is not a restaurant. Sure, it's open in the evening and it does light meals (think: soup and a roll). However, it's really a cafe ('cafehaus and icecream',  says  my receipt).
Coffee and cake is a deep-seated German tradition. You really must indulge, but beware that this is no piffling, tiny piece of sponge cake we're talking about – oh no. Coffee and cakes demands a huge, sumptuous piece of one of a range of marvellous gateaux. Picture a huge Black Forest Gateau (Schwarzwalder Kirschtorte) and you're in the right place.
Right across the road from the Wittenbergplatz, not far from KaDeWe, Grenander is easy to find and quite welcoming. It's not very big, though, so you'd better hope it's not busy.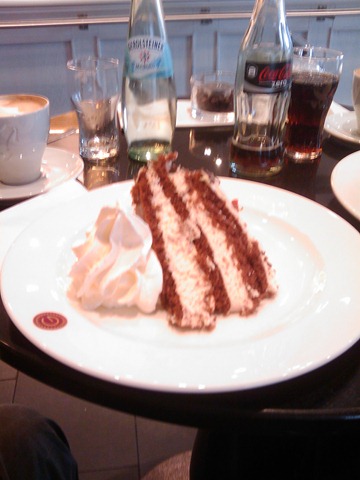 ---