Anybody who knows me well will tell you that I am prone to waxing lyrical about Portugal. Whilst I haven't been there for a good few years now, it was a regular destination for my family when I was younger and I have strong, fond memories of the place and its food.
Imagine my surprise then, when we found a Portuguese/Spanish restaurant just a few minutes away from our hotel. La Sepia is on Marburger Strasse, just off Ku'damme.
Cue a random mix from our blogger of broken German and broken Portuguese – all the staff we spoke to were native Portuguese, as far as I could tell.
Sadly, they only offer bacalhao a bras (Portuguese salt cod) during the day, but in addition to a range of tapas and a fabulous choice of fresh fish, a number of different dishes cooked in the traditional cataplana were on offer.
The cataplana is a traditional Portuguese cooking pot. Imagine a wok; now add another wok which closes against first on a hinge, like a clam. It clamps shut, making something a little bit like a pressure cooker.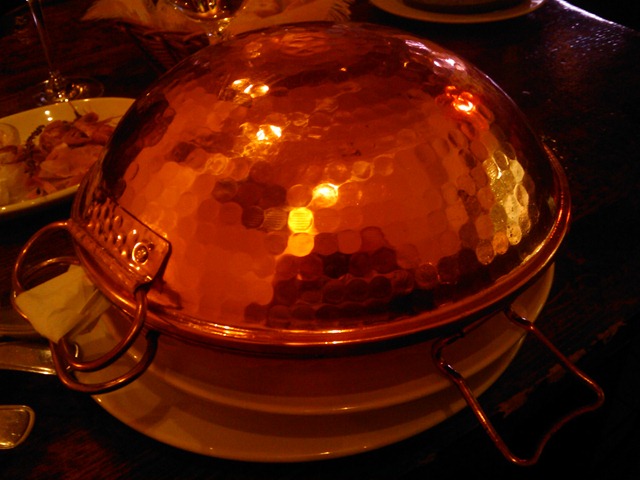 Tourists who visit the Algarve will have seen cataplana on the menus of many restaurants. Mostly, that means pork and clams, cooked in the cataplana. La Sepia offer this, of course, but also have other dishes. I plumped for monkfish, cooked in the cataplana. The dish is a bit like a stew – big chunks of monkfish, potatoes and other vegetables in a sauce which is a mixture of tomato and fish. Take it from me – it's great. Just make sure you save some bread to mop up the sauce!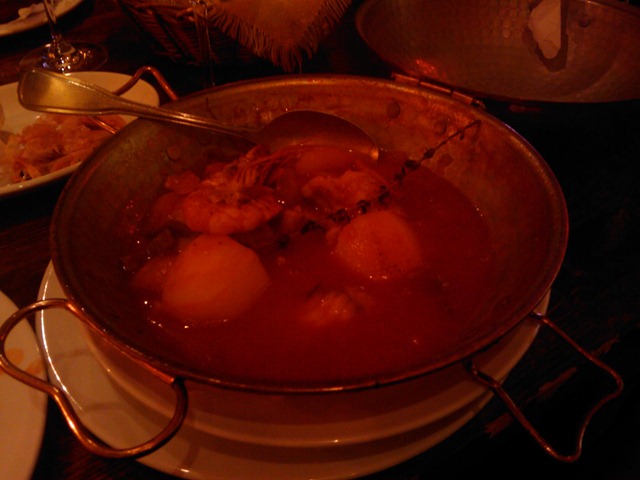 A wide range of Portuguese wine fill a lengthy wine list. We settled on a nice Vino Verde – a light, slightly sparkling fresh white (literally translated to English as green wine). To finish, a bica – the strong Portuguese coffee which makes espresso look weak.
Overall, a place I can heartily recommend. You can bet that I'll try to make it back during the day for bacalhao a bras before we leave Berlin.
---